So, about that thought…
Basically, I've been thinking about where I go from here, and I had two projects in mind. One is something I've been toying with for about a year now – a plot driven puzzle game that I think could make a good shareware title; the other is an RPG for a Retro Remakes contest that I'm kinda sorta already working on. That project would be another freeware game, mind.
I was originally going to write up my thoughts on both games and hope that my astute readers would point me in the right direction – but I realised that I'd already made my mind up. I know I've squandered a lot of time already and you all probably think I'm mad for even considering working on another free game at this stage, but I don't care. When I started this I promised myself that I'd focus on making games that are interesting to me as opposed to games that could make some cash for me, and this seems like a pretty clear test of that theory. I do like the first idea, but it's a bit shallow, really – anyway, I can always come back to it later when I've developed the concept a bit more. Right now, I feel like working on something that takes itself seriously.
Retro Remakes are holding a top down 2D dungeon contest at the moment, which runs from two weeks ago till four weeks time (December the 8th). I'm a little far behind at the moment, but that's fine: what I have in mind is quite simple, and I hope to be finished long before the deadline. I'll post more about my game later, but here's the jist of it: it's going be a very traditional D&D style RPG, with a character focused plot. It'll be very short, but non-linear – it'll start with a few short quests that basically serve to introduce you to the characters, and then there'll be one big quest that the game revolves around. How it plays out will depend on who you choose to team up with.
I kinda see it as an experiment in non-linearity; a lot of design documents I've read discuss the problem of linearity in plot driven games and either decide that traditional linearity is the way to go, or compromise by having a linear plot with non-linear sub-plots. However, I think it might be interesting to make a game that attempts true non-linearity, and that's what I hope to do with this.
One major problem I've seen with games that do attempt this is an inability to commit. This, essentially, is what I hope to focus on with my new game. To take an example, "Deus Ex: Invisible War" allowed the player to side with any of the game's factions, and went to some lengths to make them all sympathetic in their own ways. The game's real problem is that you never really felt like you were a part of whatever faction you sided with: the game allowed you to side with anyone or indeed everyone whenever the hell you wanted, and only rarely forced you to choose one side over another – and even when it did, you never became an "enemy" of the rival faction. They'd still call you up and ask you to do things for them. T'was quite frustrating, actually.
Sorry, I guess I'm getting a bit off topic – as for my game: It's really too early to say anything about this one just yet… so I guess what I've said will do for now. I'll post some more details in a few days.
The contest has already been running for two weeks, and there are a few entries brewing that look like they could be pretty interesting. One that's caught my eye is an interesting "hunting" game by JTR, the author of the lite-roguelike Crypts of Despair and that excellent Death Worm simulator. In the game, you trek around a dark cave shooting arrows at rats looking for the legendary beast. The atmosphere is spot on, and I don't think I've ever seen a hunting game before – when you get a shot in at the beast, he'll leave a blood trail which you can use to track him down. It's an interesting idea. The working title is "Rat Cave" (there's a playable demo at that link).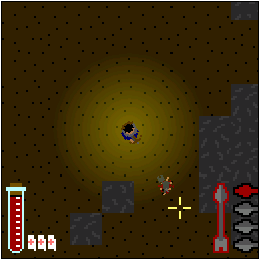 I actually have a fair bit of trouble coming up with ideas like that; I always tend towards complicated ideas that slowly creep out of control that never go anywhere, so I've got a lot of respect for small, simple, original game ideas that work well like this one does. It's why I'm such a big fan of guys like Cactus and Ikiki, I suppose.
DevX is also entering this one (he entered that spring contest over at rpgdx.net too); he's got a devlog of his progress up here.
In other news! I haven't been doing all that much recently, to be honest – for the last few days I've been playing Psychonauts. My expectations were pretty high, so I was kinda worried that I might unconsciously be too critical of it – but the game doesn't disappoint – so far I'm loving it! Believe it or not, it really is as good as everyone says it is. Hell, even Yahtzee likes it. And he hates everything.